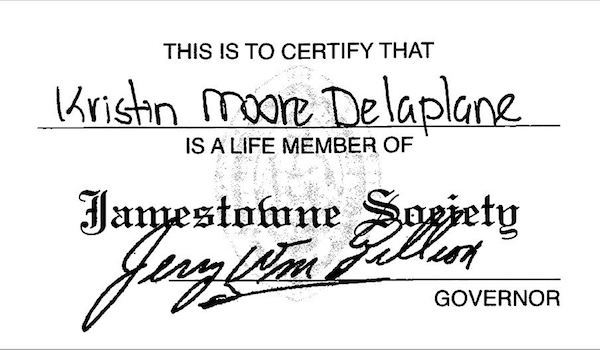 Kristin's Jamestowne Society Membership
I trace my Jamestowne Colony history back to my 9th great grandfather Robert Bracewell. Born in 1611 in London, England, he attended Oxford University. About 1650 he immigrated to the Jamestowne Colony, but ended up settling across the James River at what is the Isle of Wight County today.
In 1852, Reverend Robert Bracewell was a minister of St. Luke's Episcopal church located at Smithfield, Isle of Wight County. He served as pastor up to his death at age 56 in 1668. In 1653, he was elected to the House of Burgesses of Virginia, but eventually resigned as it was not considered proper that a minister hold a political office.
The fact that he was in the House of Burgesses is what qualifies me to be a member of the Jamestowne Colony. My other 9th great grandfather, whose son married Robert Bracewell's daughter Jane, actually arrived at Jamestowne and moving to Isle of Wight much earlier — sometime after 1609. But he doesn't count, as he is not registered at Jamestowne.