About Kristin
Kristin helps people capture their family or company stories through oral history interviews and historical and genealogy research. The end result may then be carefully crafted as a narrative for an heirloom book. From the great American landscape her clients have included notable American families and celebrities, including Best Actor Oscar winners and a Kennedy Center Honoree.
Kristin's workshops on oral history methods and capturing the family stories for heirloom books have been featured with the University of California, colleges, high schools, museums, historical societies and private organizations. Her project management and consultancy services have been employed by business such as San Francisco's famed Buena Vista Café and Genentech Corporation.
Named oral historian for the highly accredited Vacaville Museum in Solano County, California, Kristin, with a $60,000 grant, initiated and oversaw a three-year project involving over sixty oral histories resulting in a museum exhibit and her publication Solano's Gold: The People and Their Orchards.
---
A newspaper feature on California history, "Echoes of Solano's Past," conceived and written by Kristin, appeared in the award-winning Vacaville Reporter from 1995 through 1999. In 1998, a television documentary, which was co-produced, written, and narrated by Kristin, won a Cablevision Award.
In 1998, Kristin published A Gold Hunter: Memoirs of John Berry Hill, which was based on her ancestor's California gold rush journal. The book was named an official California Sesquicentennial Resource.
From 1972 to 1993, Kristin was the inquiring photographer columnist for the San Francisco Chronicle. This column, Question Man by Conti, was regarded as one of the best in its genre and garnered notable recognition including a day in San Francisco named for Kristin.
---
An interest in family histories was sparked early on with fireside stories about her family heritage. She traces her American family back to 1609 at the Jamestown Colony, the Mayflower pilgrims John Alden and Priscilla Mullins, an ancestor who was captured and raised by Indians, a great-great-grandfather, who trekked to the California gold fields and a grandmother, great-grandmother and great-great-grandmother, all of whom survived San Francisco's 1906 earthquake. Her father, Stanton Delaplane, was a Pulitzer Prize recipient and travel and humor columnist for the San Francisco Chronicle.
Kristin's education included Dominican Convent, San Rafael, California, City of Westminster College, London, England, University of Nevada, Reno, Nevada, University of Maine, Belfast, Maine, and she studied oral history methods at the University of California, Berkeley, California, and the University of Leicester, England. 
In 2016, after acceptance to attend an advanced oral history program, Kristin received her certification from the Oral History Center at the Bancroft Library, University of California at Berkeley.
Selective Memories
Sausalito • Hills • Stories

I grew up in Sausalito, where there were very few kids nearby. When I wasn't roaming the hills with my dog or fixing up my fort, I found my happiness visiting our older neighbors and listening to the stories of their lives.

Carmel • Cachagua Valley

My summers were spent in Cachagua Valley, a valley beyond the Carmel Valley. I was invited by my grandfather's and father's friend Martin Flavin. At one time Martin, a playwright, had five hits on Broadway. His novel Journey in the Dark received both the Harper Prize for 1943 and a Pulitzer Prize for 1944. His summer retreat was frequented by actors and writers. My favorite time was at the dinner table on a screened porch listening to these wonderful conversations. And I was always welcomed as a participant!

Sandals in Big Sur

My high school friend was making sandals in Big Sur, at what is today the famed Esalen Institute. I opened a shop in Monterey carrying her goods and spent time in Big Sur with her learning the craft of sandal making. I later moved to Big Sur where I was companion to a lady who was a contemporary of Martin's. Another interesting older person in my life.

Honolulu • San Francisco

I had gone to Honolulu thinking I might like to live there, but after a while I decided to return to San Francisco. My father would not send me an air ticket. I was kicked out of the nest! I hitch hiked on a 45-foot ketch and sailed back to San Francisco, a 30-day trip. We almost died when a whale slid under our boat. Yikes.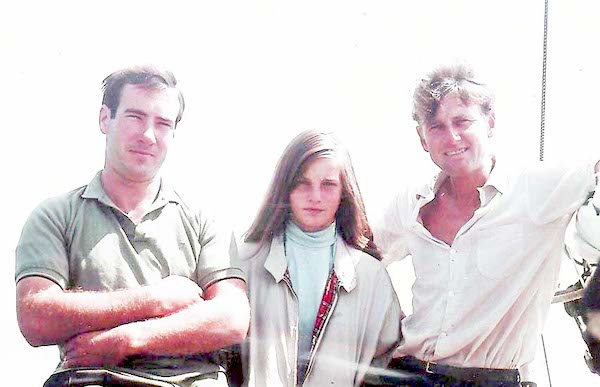 This was 1964. I hitchhiked to get on board in Honolulu so I could get back to San Francisco; Daddy wouldn't send $$$ for me to fly home. LOL. This was a 30-day sail upwind. A sperm whale floated under our boat when I was on watch and pulled up just past the boat; another time I could have died! The boat was the Windsong and was crewed by three Aussies. They were total gentlemen. I got on by telling them I had sailed forever and could cook. Total lies. They taught me both skills.
Sailing the Friendly Seas

Having made some connections with the sailboat community, I joined the crew of a 30-foot trimaran. We sailed to the Samoan Islands, the Wallis Group and finally the Fijis.

The Graduate • Marriage • Around the World

I went to work in the San Francisco office for United Airlines in 1965. I also signed on as an extra for film work with the Brebner Agency. Ann Brebner had been my drama teacher in high school. I appeared in "The Graduate," "Petulia," "Boston Strangler" and a few commercials. In 1968, I quit United Airlines and moved to the Big Island in Hawaii, again being drawn to maybe living in Hawaii. This is where I met my husband, Charles Conti. We were married for 45 years. I went back to work for United Airlines in Honolulu. In 1971, I won a contest with United for most sales. My prize was a Pan Am round-the-world ticket with an expiration date a year later. With one year to travel around the world, I quit United.

England • Hawaii • The Question Man

We bought a motorcycle in England and toured the continent. Then flew to various stops on our way back to Hawaii. In 1972, the job of the Question Man became available.